I'll start with a quick update of Jason and his rib. He's doing better. Still a bit uncomfortable, but he's getting there...learning what he can and cannot do. (Like he can't quite do those 12-hour days, but he can still handle 10-hour ones.) Anyway, we appreciate your continued prayers for his healing!

We're tossing around the idea of getting a recliner because he's having a hard time finding a comfortable sleeping position. I think he'd break MY rib if I posted the picture I took of him asleep on the couch, but here's an idea...(no idea who this kid is)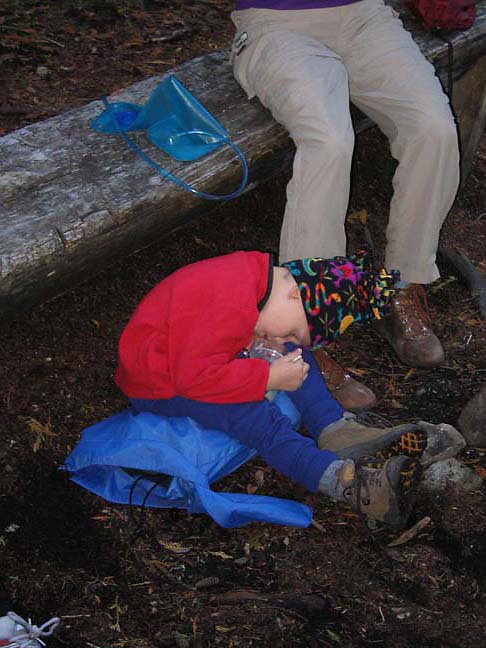 My
jaw/tooth
is much, much better, and I assume Fred's head is feeling better as well. So I can eat solid foods again! Wait a minute...is this good news?

By the way, I have come to a realization about one of the items on my "27 by 27" list. The 27-mile thing just ain't gonna happen. One day I would like to be able to walk or even run a marathon. It's a goal, but with my schedule right now, I just don't have the time to invest in that long of a workout.
I'm doing great if I can get in my hour in the morning! So, as I said before, I'm learning an important lesson about realistic expectations.

Moving on...earlier this week, we were excited to meet NPR's
Robert Siegel
and
Debbie Elliott
at APR's 25th anniversary celebration at a new place (for us) Chuck's Fish House.

Jason and I love Debbie Elliott. She has an Alabama history, and we feel like she brings a bit of a Southern flavor to ATC on the weekends. She's also just a super nice person.

Quick plug for Chuck's. I'm not a big seafood fan, but if you are, you need to try this place. Really neat atmosphere, great owners, and they even got me to admit the sushi and the crab legs were pretty decent. I think I'll stick with pizza tonight, though!

I guess this post has been just a lot of rambling...but, hey, what else are blogs for? haha